3rd FORUM FOR SUSTAINABLE DEVELOPMENT – LOMBARDY REGION 2022
Our CEO, Marco Bernasconi, was invited to the "3rd Forum for sustainable development – Lombardy Region 2022" to present the sustainability projects that FLANAT Research developed in Lombardy.
The annual review of the Lombardy Region, which was held at Palazzo Lombardia from 19 to 22 October 2022, gathered the voice of the territory and Lombard society on sustainability. This edition has made it possible to present the efforts made and to involve the many realities that contribute to achieving the objectives of Agenda 2030 in the area.
The relationship between the agricultural supply chain and sustainability was at the center of a work session "Sustainable innovative companies, the road to long-term prosperity" in which brought their testimonies and reflections on the topic the entrepreneurs Danio Federici (Pieve Ecoenergia of Cingia de'Botti, in the province of Cremona) and Mario Vigo (Folli Agricultural Company, Milan), Leo Gasparri (Heineken Italia sustainability manager), Alessandro Fede Pellone, president of Ersaf Lombardia and precisely our CEO, Marco Bernasconi and finally the president of Confagricoltura Lombardia, Riccardo Crotti.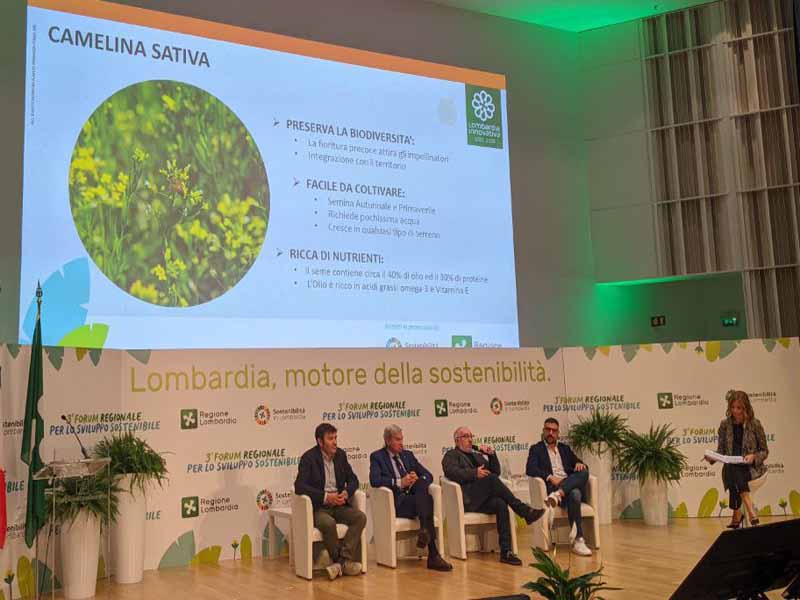 Our CEO presenting the CAMELINA SATIVA - Life Cycle Thinking project
Our CEO highlighted which strategies are necessary to deal with an agricultural context where the problems represented by climate change are upsetting normal cultivation practices. "The future is represented by circular economy projects applied to the territory", continued our CEO, "where the focus should no longer be on the product alone but rather on the project that revolves around it. It is necessary to make corrections and substantial changes to the supply chain strategies."
FLANAT's projects integrate perfectly into this context by tackling the problem of arid and marginal lands: a new crop like Camelina sees its circular development by exploiting every component of the plant in the various sectors of nutrition: from the oil rich in omega 3 to the functions healthy and functional of the extract of the secondary product derived from the cold pressing of Camelina seeds.
"The project started in 2018", continued our CEO, "with the sowing of a few hectares in Casalasco, in the province of Cremona. We immediately realized the potential of this cultivation which, without the addition of water, has grown luxuriantly providing an unprecedented harvest".
In conclusion, President Crotti presented a quick overview of the prospects of a sector for which the wind is not blowing in Europe. Lombard productions do not fear comparisons of any kind at an international level for quality, safety and compliance with the strictest health protocols: environmental sustainability has always been a fundamental objective.